Our story
1999
If you think that sometimes certain events don't happen by chance, you are right! Silvia and Pierluca, who had not known each other until then, meet for the first time in the delivery room. 20th November 1999 is the day in which their respective children are born and the seed of Officina Naturae is ready to grow up.
2003
In 2003 Silvia and Luca joined the Solidarity Purchase Group (G.A.S.) of Rimini, they are groups of families that have the aim of buying "natural" products all together directly from those who produce them. After a few meetings within the GAS, to decide from whom to buy household detergents and cosmetics, they realize that the questions asked about the ecology, efficacy and supply chain of the product received only evasive or unconvincing answers from the many producers to whom they had been asked.
One summer evening, walking on the beach in Rimini, they decide: "if we don't find the ideal products, we'll make them!"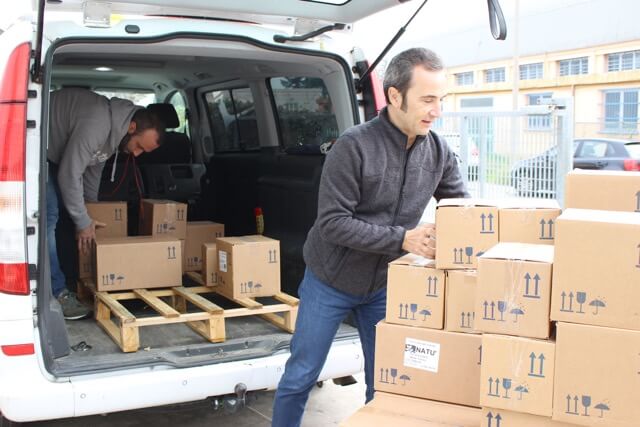 2005
In 2005 Officina Naturae is on and its first headquarters, as in all respectable stories, is a garage. A garage full of products, dreams and ideals, but not even a customer!
Thanks to meetings with Italian purchasing groups (G.A.S.) and participation to organic and critical consumption fairs, the name of Officina naturae begins to make itself known.
2005
During a sleepless night, Pierluca "invents" the multiple uses of Citric Acid!
The original idea of using this simple ingredient was born from Officina Naturae, as an economical solution without environmental impact, very useful for many needs of the home: such as limescale remover, rinser aid or softener.
They prepare a manual with recipes for self-production which, from that moment on, will also be copied and reproduced by other companies in Europe and share online.
But the original idea is from Officina Naturae!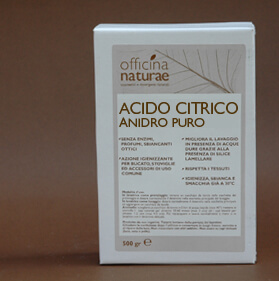 2006
Launch of the first Officina Naturae cosmetic line with Chiuri butter. We bought the first batch of Chiuri Butter directly from the small Chepang ethnic group, who live in the mountains on the border between India and Nepal. It is a very precious resource for them, thanks to the healing abilities that this butter has in the presence on red or cracked skin. When the first order of chiuri butter arrived in our laboratory and we opened the kegs, we smelled a strong smell of smoke! We immediately thought that we could not use this precious ingredient for our cosmetics. The smell of smoke was caused by the system they used to extract the butter from the seeds. They extract it by heating the seeds with a wood fire and the smoke had heavily impregnated the butter. We could eliminate the smell with a chemical solvent, but we did not want to use a petrochemical and polluting ingredient, so we studied a washing system with vacuum-packed hot water to purify the butter without losing its precious characteristics. After this long process, we created our first cosmetic line with Chiuri butter which, even now, years later, is still very successful.
2009
The reduction of packaging is in Silvia and Pierluca's DNA, they are strongly convinced that truly sustainable detergents or cosmetics must also be contained in the least amount of plastic possible. They are among the first to pack household cleaners and cosmetics in flexible bags. A few years later the SOLARA line comes out with the innovative BAG IN BOX.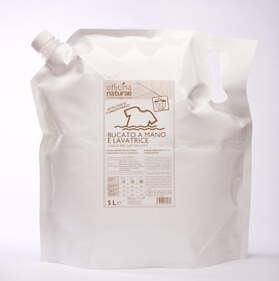 2010
Always looking for maximum sustainability, after more than two years of studies and having tested different formulas, Silvia and Pierluca present the "SOLARA" household cleaning line.
It is a line of products with surfactants (the washing part) derived from Italian raw materials, such as Brassica oil and olive oil. We try to use local raw materials, whose cultivation, processing and transport have a very low environmental impact when compared with the organic coconut oils that are normally used in the production of detergents.
To continue investing in the reduction of waste and waste of resources, an "eco-design" bottle is designed for SOLARA, therefore a bottle that maximizes the content / container ratio, made with recycled plastic.
The Solara household cleaning line, thanks to the innovative formula and "eco-design" packaging, was exhibited at the IED (European Institute of Design) in Florence in 2012.
2011
We enter in our "new" headquarter in July 2011. In reality it is an "old shed" built in the '70s, without any thermal isolation, very hot in summer and very cold in winter, which up to that moment was heated with a very high consumption of diesel. After a careful study and thanks to the skills of Pierluca, an expert in green building since 1995, we carry out a complex sustainable renovation. We only use natural or recycled materials: we repaint the walls with natural paints based on lime and milk, we best isolate floors and roof with FSC wood fiber panels or obtained from the recycling of PET bottles. We install new low-emission windows, coat the roof with copper rods (a material that cannot be altered over time) and finally we installed the photovoltaic panels. Thanks to these thermal insulation interventions and photovoltaic panels, we power a heat pump that produces hot and cold at no cost!
Our products must be born in a "green" place!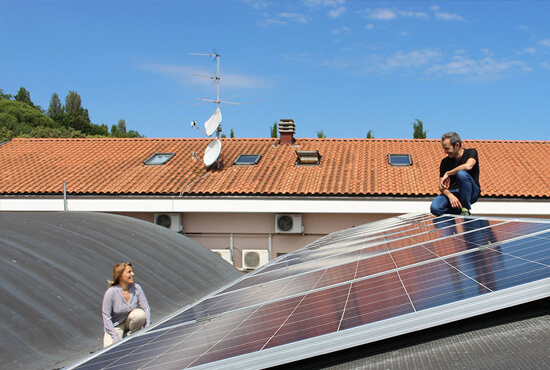 2014
The BIRICCO line for children and babies is born, a line of extremely delicate products characterized by Organic Quince extract. The extract of this now forgotten fruit, but with precious properties, is made following the entire supply chain "step by step", from the collection of quince apples, to transformation into active extract, to use in the final product.
2014
Always looking for the perfect packaging, after experimenting with the Bag in box or a reusable bucket, the research focuses on the use of a raw material from renewable sources capable of reducing CO2 from the atmosphere: Green PE or Bioplastic. "We were the first to produce with our own mold and use bioplastic bottles and cans in Italy!"
Until September 2020, this choice avoided introducing 172.2 tons of CO2 into the environment, as if 160 cars had travelled 15 km a day for a year, without introducing a gram of CO2!
2016-2018
Between 2016 and 2018, thanks to research and development agreements with two universities (Bologne and Ferrara), Officina naturae launches 6 cosmetic lines. In this period, Silvia and Pierluca are concentrating on the study of a new class of surfactants of vegetable origin for cosmetic use, in order to create a series of products with very high performance. Our Ultragentle cosmetics were not present on the market until then, they make the cleansing of skin and hair pleasant and very delicate. Many of these products begin to be used with satisfaction by patients with Multiple Chemical Sensitivity, so much so that we have been contacted by some patient associations to stipulate agreements.
2019
CO.SO. Solid Cosmetics is the plastic-free revolution!
A turning point for us, an alternative that is certainly closer to your needs and corresponding to your sensitivity to the environment.
Why CO.SO.? We immediately liked this cute name, because it inspires us and it invites us to try this new way of washing … we are sure it will inspire you too:
• because SOlid COsmetics are plastic-free, the decisive choice to eliminate the waste we produce every day;
• because they are unbreakable cosmetics, friends of your skin and they have care and respect for the environment in which you live in;
• because they are SOlidal COsmetics that use organic vegetable raw materials, grown in Italy by small producers and packaged by a social cooperative;
• because they are SOcial COsmetic, which you can share with whoever you want and wherever you want, take on your travels, to the gym or on the plane (without any spillage of liquids!).
CO.SO. are not soaps: they are real solid cosmetics, with a specific pH for each part of the body and rigorous formulas with ingredients and active ingredients designed for the various types of skin and hair.
If you look at the ingredients of the CO.SO., you will notice that we have eliminated the water, to create highly concentrated solid cosmetics. You will find that it will be enough to rub them lightly on the skin or hair, to develop a soft foam!
Finally, all CO.SO. are created by hand: high quality craftsmanship and care in production.
2019
We are named "Green Heroes".
It happened on Saturday 25 May, when we were among the protagonists of a fantastic day at the "University of Gastronomic Sciences", organised by Slow Food and considered one of the most prestigious in the world. We were the protagonists of a special award ceremony: we were selected by the Kyoto Club for our commitment to creating and supporting a circular and environmentally friendly economy.
The surprise had already arrived on April 19, 2019, when we saw ourselves mentioned as "Green Heroes" in an article in "La Stampa", a national newspaper, signed by Alessandro Gassmann, a well-known actor sensitive to environmental issues. Gassmann then rewarded us and after having told our story, he defined us as "Carthusians of sustainability". This is due to our strong commitment in wanting at all costs:
• starting with locally available raw materials;
• create ecological products, for the person and for the home;
• devote resources to the search for more sustainable packaging (bioplastic, eco-design …);
• carry out our work in a building renovated according to green building criteria.
We felt an integral part of a virtuous circular "network", in which farmers, entrepreneurs in various sectors and consumers are united by a single common thread, that of the sustainable economy.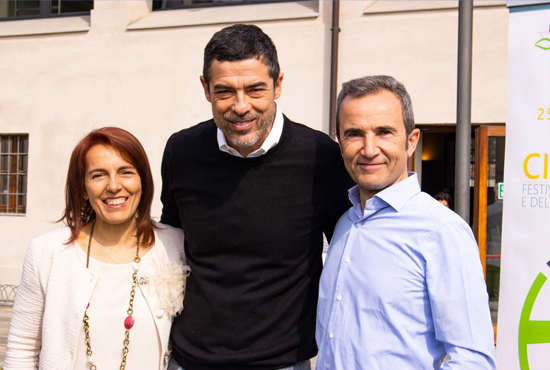 2020
Among the various most difficult moments in the history of Officina naturae, certainly one of these was the period linked to the appearance and then the spread of Covid 19.
Periods of difficulty have always made us more united and therefore able to respond with confidence to the doubts and fears that were expressed by consumers.
This approach has allowed us to face the difficulties of 2020 with an out-of-the-ordinary energy, understanding the needs and requirements of consumers very quickly, thus formulating personal hygiene products that are consistent with our philosophy.
Thus, new sanitizing products were born, formulated paying attention to the choice of raw materials, the skin compatibility of the product, the health and well-being of those who would use them, such as the Hand cleanser with organic alcohol and peppermint essential oil and others.
products for personal, animal and home hygiene, which have further consolidated consumer confidence in Officina Naturae.
2020
We received an
award
last friday 9th october in Bologne during the
SANA event 2020
.
The SANA fair of Bologne is one of the biggest fair in Italy for the organic world (food, healthy and beauty) and usually also lots of foreign buyers come to visit it.
In this occasion the Purifying Solid Face Cleanser of CO.SO. line won the prize in the Cosmetic Face Cleanser category for the Bio&Consumi Awards 2020.
Bio&Consumi is an Italian paper magazine that deals the theme of organic products, to which it adds those gluten-free, healthy and natural. Its purpose is to talk about the peculiarities of this market, showcasing the offer that lands on the shelf and tell the trends and the stories of the protagonists. All this while living at the forefront of the Italian market and its developments to give voice to all interpreters, without however renouncing to provide information in an incisive, pressing and direct way.
Each year Bio&Consumi organizes the
Bio&Consumi Awards
, there are different categories (body, food, wine, beauty, make-up, etc) and about 20 judges select the winner in each category.